Program Descriptions
Youth Progressive Swim Lessons (ages 5-15)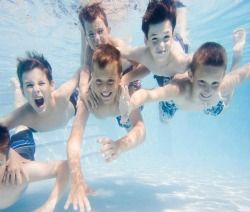 Beginning Polliwog (non-swimmers and beginners)
Beginner level for school aged child. Children learn independent front and back floats, paddle stroke and learn to jump in the water from the side.
Advanced Polliwog (progressing beginner)
Children are able to swim with face in the water, beginning front crawl and finning on their back. Swimmers improve their independent front and back floats.
Guppy (advanced beginner)
Children continue to practice and build upon basic skills. Children must be able to swim in large pool 11 feet deep and jump off of the board. They improve upon backstroke and freestyle.
Minnow (intermediate)
Swimmers learn elementary backstroke and sidestroke. Swimmers must be able to swim the length of the pool.
Fish (advanced)
Learn breaststroke and butterfly; work on refinement of front crawl, back crawl, elementary backstroke. Your child should be comfortable with rotary breathing, treading water, diving from the diving board.
Flying Fish (very advanced)
At this advanced level children can dive from the diving board, swim butterfly, backstroke, breaststroke, front crawl and elementary backstroke. This class focuses on endurance and technique.
Shark (most advanced)
Swimmers who reach the highest level will be able to swim all strokes for 75 yards, tread water for 6 minutes, dive from the board using a one step hurdle and arm swing, and have a developed knowledge of water safety and basic water rescue. Swimmers who graduate form this level are encouraged to join the Orcas Swim Team.