Program Descriptions
Synchronized Swim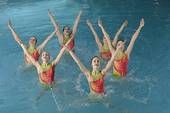 Tuesdays and Thursdays 4:30pm - 5:30pm. Have the opportunity to showcase what you learn in competitions with your teammates!
You'll swim to music and learn routines to match your abilities. Learn easy fun moves with your friends! You must be able to swim the length of the pool each of back and front crawl.
Questions? Contact the instructor, Amy Heilveil at amyheilveil@gmail.com.
United States Synchronized Swimming: