Program Descriptions
Parent and Child Swim Lessons (Infant / Toddler)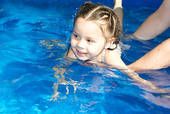 Location: teaching pool
Kipper (6-18 m)
Perch (18 m-3 yrs)
You and your child will become comfortable in the water and learn aquatics skills. This fun class helps build social connections with other parents and toddlers through singing songs, playing games and trying new skills individually and as a group. With your participation, your child will learn basic kicking, assisted floating and breath control. This class is for 6 months to 3 years old.
*The YMCA does not promote dunking an infant under the water
(Ages 3-5)
Pike (non-swimmer)
Start the session in the water with your child and transition your child to independent lessons. Water adjustment is the main focus of this class. Nonswimmers will work on floating, kicking and breath control. By the end of the session children should be able to put their face in the water, blow bubbles and achieve basic kicking.