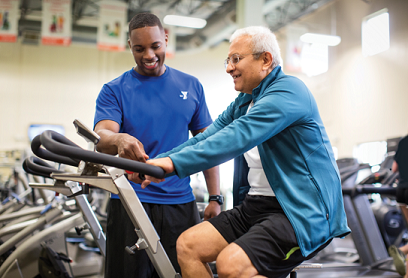 The Oneonta Family YMCA is very excited about being chosen as The Daily Star Reader's Choice for 2016 "Best of the Best" Fitness/Gym. We are happy the people of our community noticed how hard we work to deliver a quality service. This is no easy task having a 1965 building that can sometimes appear old and dated at first glance, but once you get inside you see we are all about the people and much more than a gym & swim- we are a cause!
Our cause is to strengthen the foundations of our community. We do this by offering programs that foster Healthy Living, Youth Development and Social Responsibility. We feature state of the art cardio machines that our on routine maintenance contracts to ensure that they are in good working order. You may think we are a group exercise class or fitness center, but the Y helps you take care of yourself, teaches healthy habits and helps you fight chronic disease.
We have fitness oriented classes for all ages, and you will find our senior classes packed and full of energy. The seniors are not just here to hang out and drink coffee, the Y provides them a vital social network of support and caring. Our staff is highly qualified and certified to offer you over 40 classes a week. Every day we work side by side with our neighbors to make sure everyone has the opportunity to learn, grow and thrive.
Another bonus of joining the Y is that you belong. Your Y membership is good to access most all Y's in New York State. While your busy building a better you, we are using your positive energy to strengthen the community. We are all better together! The Y is a charity organization so please join, volunteer or give to make our cause stronger. Every little bit helps.
We look forward to living up to our title as "Best of the Best" Fitness/Gym in 2017!
- Frank Russo, Executive Director