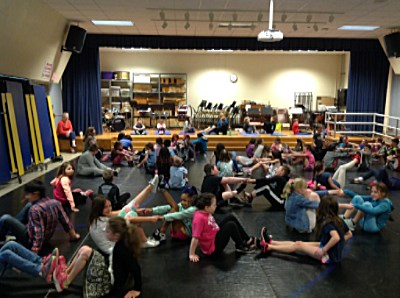 I recently had the privilege of bringing yoga to the students of Greater Plains Elementary School. What a truly rewarding experience it was to practice with almost 270 elementary grade students, having 3 sessions with almost 90 kids in each session from kindergarten up to 5th grade. This experience worked in collaboration with their month long theme of "Greater Movement" inspired Shannon Forbes, Library Media Specialist, to seek out other ways for the kids to move.
I have seen firsthand how yoga is beneficial to children in a variety of ways. Not only does yoga provide children with the opportunity to exercise and strengthen their bodies, yoga also teaches children how to manage stress. Yoga teaches us how to connect our breath with movement, which helps us manage our emotional and physical wellbeing. By being able to take control of how we manage ourselves, we allow the frontal cortex of our brains to open and become more receptive to rational thinking and learning, therefore strengthening our Executive Function Skills. This fact is especially helpful in relation to children living with ADD, ADHD, Autism, and more.
Inside a Session
The 1st session was with Kindergarteners and 1st graders where we did story time yoga. I had the teacher's pre-select 2 students from each grade to be my helpers on stage. They each learned animal poses, and helped lead their friends in the audience, as the animals came up throughout the story. This story also presented students with meaningful life lessons that provide encouragement.
The second session consisted of 2nd and 3rd graders. My assistants were each given a set of cards with poses on them. The children then helped me build the class by selecting a card from the pile. It was a great success and we learned some science along the way.
The final session was for the 4th & 5th grades. Their yoga session was close to what I would teach in an adult class and a lot of fun was had by all, not to mention some of the children out did me with some of their poses. Though I'm certain they enjoyed Final Relaxation the most.
I received many hugs that morning and wishes that I could come back soon, it was a truly a magical experience to be able to give back to the community. I love being a Yoga Instructor at the Oneonta Family YMCA, and it is especially rewarding when I am able to extend my reach outside of its walls. I hope you will consider adding yoga to your children's lives not only as a parent but as educators. You will be amazed at the results.
If you have questions I would be more than happy to speak with you; so feel free to reach out to me at kmorrissey@oneontaymca.org