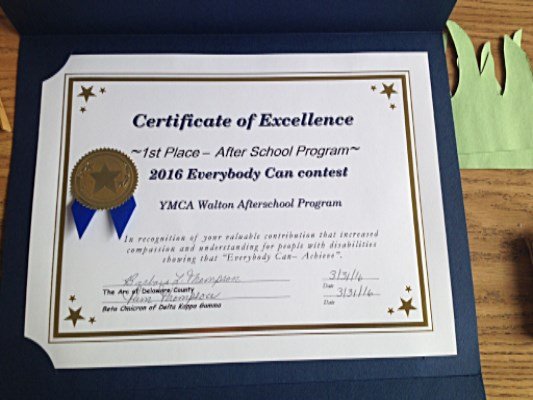 The YMCA After School Program in Walton had the opportunity to participate in the "Everyone Can" contest through the Delaware County ARC. The goal of the contest is to encourage Delaware County children in grades K-8 to learn more about developmental disabilities utilizing a variety of resources, and then create projects that demonstrate what they have learned. The Delaware County ARC was kind enough to join the children in the YMCA After School Program in Walton, to share the different ways of what it is like to experience having a disability. One of the ways was learning a few words in sign language, another was using a wheelchair or crutches to work through daily activities like carrying their book from class to class or playing basketball.
After the visit with the Delaware County ARC, the staff and children met and came up with the idea of creating t-shirts about how everyone can achieve, and then they put together a PowerPoint presentation of everyone's shirts. The children learned a lot and enjoyed the contest from start to finish, and you could tell how proud they were of themselves when the Delaware County ARC presented them with the 1st place prize.
Your Oneonta Family YMCA is proud to be a part of the youth development both inside and outside our walls!