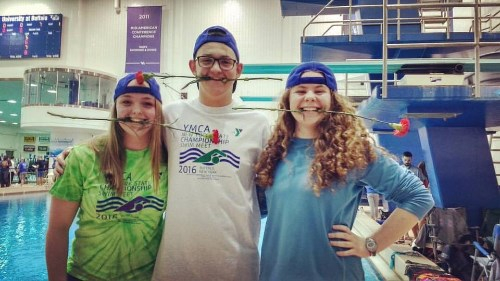 The end of our Orcas' swim season brings with it both excitement and heavy-heartedness. Some of the team (21 this year!) qualified for the Y States competition, and got to compete against all the other teams in the state! Our own 8 & under swimmer, Jason Miller, placed 1st in the 100 yard Freestyle! In addition to the thrill of qualifying for the States competition, team members move on to spend their time and effort exploring other interests and sports. Some, surprisingly (or not surprisingly, depending on who you ask) find that they have not been waterlogged enough during the swim team season, and continue on in the pool with Club Swim Team or Synchronized Swimming. Excitement awaits with the change of pace this time of year might bring.
We must also sniffle a little bit as the team says goodbye to 6 of their 2016 swimmers, who are graduating and moving on to college and all that life after high school brings. 4 of our seniors made qualifying times for the State meet, and although they will not swim for the YMCA again, some will continue to pursue the sport in their college years.
The Oneonta Y wishes all the Orca seniors the best of luck, and for our swimmers who remain, we'll be counting down the days until the start of the 2016-17 season!