Orcas Swim Team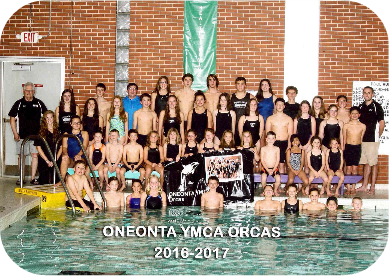 The Oneonta Family YMCA Swim Team will provide an environment where swimmers will develop mentally, physically, and socially, while also having FUN! If you can dive from the pool deck and swim 25 yards of Front Crawl and Back Crawl without stopping, consider yourself ready to be part of the team. Practice takes place in our 25 yard lap pool, and we travel throughout the season to compete with other teams. We will motivate all swimmers to do their best. We will reinforce the core values of the YMCA; caring, respect, responsibility, and honesty throughout practices and swim meets. Read about our Orcas Swim Team here, or download the following PDF documents to learn more:
ORCAS SWIM TEAM
---
Questions about the team? Contact Melinda @ 432-0010 x302 or mwagner@oneontaymca.org
---
2016-17 Orcas Practice Schedule (*subject to change throughout season)
Effective 9/27, Practice Groups attached above.
Tue/Wed/Thur 6:15-7:00pm Jrs Practice Group
                    6:15-7:15pm Red Practice Group
                    7:00-8:30pm White & Blue/Yellow Practice Groups
Fridays         3:30-4:15pm Jrs
                    3:30-5:00pm Red, White & Blue/Yellow
Dryland: Tuesdays 6:00pm Jrs & Red
                            6:15pm White & Blue/Yellow
Looking for more information? See the documents/links below to learn more about the Orcas!
Philosophy
The Oneonta Family YMCA Swim Team will provide an environment where swimmers will develop their skills in the water and enjoy being part of the team!

Goals
The Oneonta YMCA Orcas will:
•Try with their best effort
•Incorporate YMCA core values
•Foster good sportsmanship
•Build team spirit
•Improve individual swim goals
•Have fun and be healthy




Contact Information
For more information contact Melinda Wagner @ mailto:mwagner@oneontaymca.org. Aquatics Support Specialist at (607) 432-0010 x302