Aquatics Class Descriptions
We offer two heated pools; a 25 yard lap pool and a shallow teaching pool. Both the water and air temperatures are 85 degrees. In addition to lap swim and recreational swim we offer a variety of aquatics programs for all ages. Read about our aquatics programs here, or download the following PDF documents to learn more:
View the online Aquatics calendar here.


---
SWIM LESSONS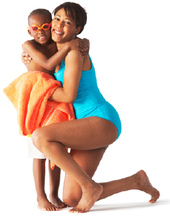 The YMCA has been teaching swim lessons for over 100 years. The Oneonta YMCA Infant / Preschool and Youth Swimming Programs strive to build long lasting swimming skills with an emphasis on water safety. Click on the links below to learn about each of our different swim lesson offerings:
Contact Information
For more information contact Christiana Gomez Frye @ mailto:cgomezfrye@oneontaymca.org. Aquatics Coordinator at (607) 432-0010


---